Worshipping Your Wife: Chapter Three

PERPETUAL COURTSHIP

"

He has an extraordinary gift for hope, a romantic readiness such as I have never found in any other person...."1

This description of the Great Gatsby could be applied, with minor adjustments, to Lancelot or Don Quixote, to Rhett Butler or Owen Wister's "Virginian." Or pick your own romantic hero of fable, fiction or film. These guys are all fixated on a single, idealized female, their romantic readiness maintained at a fever pitch.

Unfortunately, their impossible dreams rarely come true.

Obstacles to Love

Blame the storytellers. Whenever things threaten to go smoothly, you can count on some unforeseen disaster before too many pages. (Which is why "Obstacles to Love" is one of the most common dramatic situations.2) The reason is obvious. Once the last dragon is slain and the princess is encastled (and inseminated), the tale is told. There's nothing more to keep the reader, or listener, spellbound.

New perils must be concocted–the bride abducted, let's say, forcing the hero to saddle up his old warhorse and ride out to the rescue.

Which brings us right back to Wife Worship–and perpetual courtship.

If a marriage is to be a compelling and continuing love story–and that's the goal here–it must obey the same rules. Romance must be reinvented, with new romantic challenges thrown in the way of the suitor (lawful husband though he be).

Otherwise his quest is over. The princess is left to languish in the castle keep, watching Oprah! and wondering where the magic went. While her conquering mate, stripped of herowork and shining armor, daydreams of other pursuits (and maybe other damsels), watching ESPN on the other set.

But: If given the choice, he would prefer to fight again for her, to be brave for her.

"Man's greatest motivating force," wrote self-help legend Napoleon Hill, "is his desire to please woman!"3

And the husband does have the choice; he can get his quest back. An endless quest, like Quixote's, or Sisyphus', or even Roadrunner's. But futility will not be his reward. If he makes the right moves, he keeps getting the girl–over and over and over!

In other words, perpetual courtship...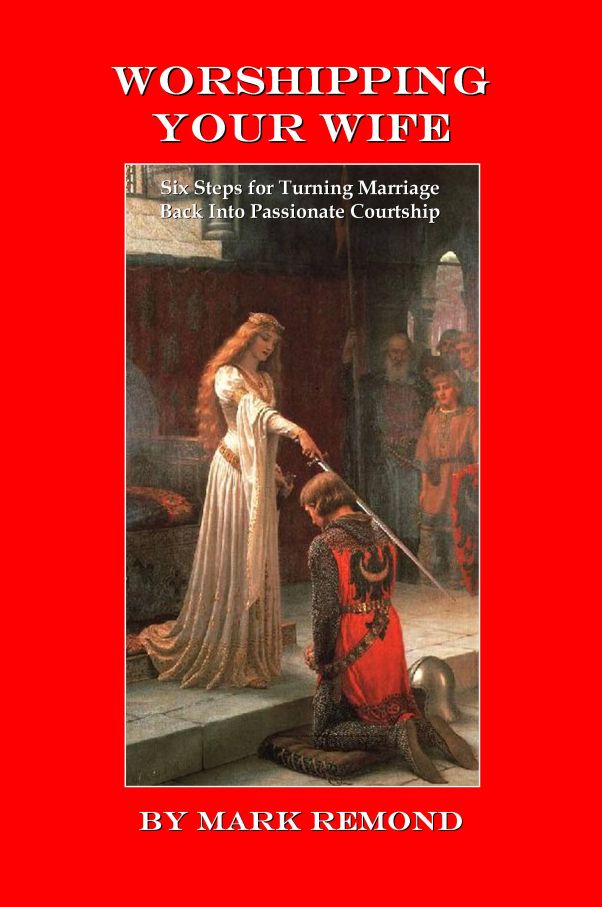 You can read the rest of this chapter, and all the other chapters of Worshipping Your Wife, in book form. The 100-page paperbound book features all the original chapters written for this website (which began online in 2001) with a new concluding chapter, "Happy-Ever-Aftering Takes Work."
On Sale Now at Lulu.com.
Price: $17.50
Click here for more information.
Back to Worshipping Your Wife home page.